Home
> IIF – Technology Software Telecom
Industry in Focus: Technology / Software / Telecom
The Changing Role of Software & IT Services in an Expanding Global Market
Introduction & Overview to the Technology / Software / Telecom Industry
Technology / Software / Telecom is the third in a series of quarterly "Industry in Focus" updates that Synergetics is proud to publish in recognizing the company's 40th Anniversary. The Technology Sector is a fast growing business line among the nine industry verticals within the Synergetics portfolio. This overview highlights specific dimensions of Software and IT Services and how Synergetics' implementation projects have helped Tech companies identify and achieve strategic business objectives. A linked article further details how Synergetics was able to help three established IT companies adapt their practices to be successful in a changing landscape.

Changes within Information Technology and associated applications are occurring at such a rapid pace and are so far reaching that they must be viewed from a global perspective. Because these technologies affect every business in some capacity, the global economic impact and invested resources are immense. According to a recent Gartner report (Jan 2016), the highest annual % rate increases for IT growth / spending will be in the areas of Software and IT Services, which also correspond with the explosive growth in Cloud computing and associated applications.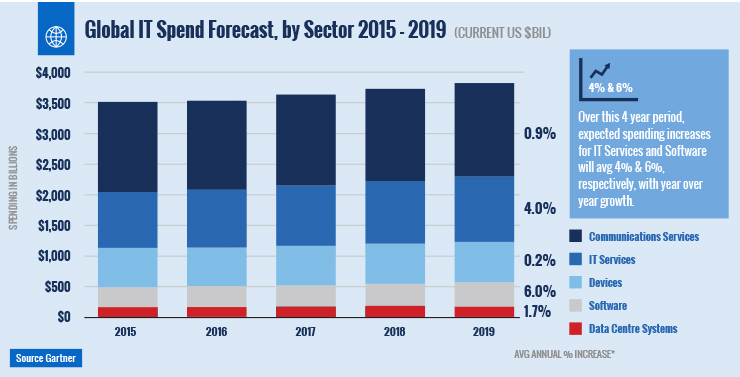 Unlike their earlier use mainly to support marketing functions or day-to-day operations, Software Programs and Services are now integrated into all aspects of production and back-office operating systems. Complexities increase each year, and it is becoming more difficult to distinguish boundaries between Hardware, Software, and IT Services. Companies must continue to keep system network technology current as more web-based and mobile solutions will originate through Cloud services.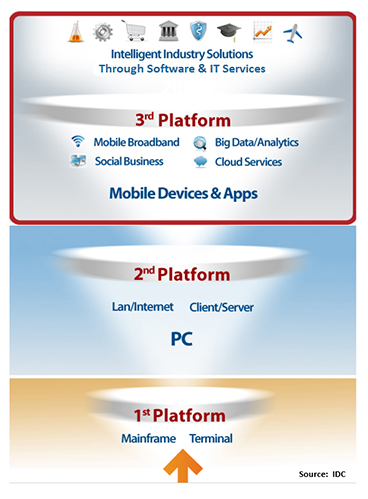 Cloud Technology Supporting Software Services
Cloud technology is being used to create opportunities where platforms and Software Systems and Services can be integrated to gain more efficiencies. Such examples include:

Utilizing "Big Data" and Business Analytics to define new opportunities of investment, research, testing, and education
Boosting sales through Marketing and Sales Effectiveness efforts
Using Customer Optimization and CRM methodologies to drive loyalty programs and enhance customer experience
Employing social media to promote consistent messaging and branding opportunities to keep companies out in front
Implementing SCM benchmarking measures to improve efficiency and cost savings initiatives
With its signature implementation capabilities, Synergetics is well positioned to help businesses realize these areas of opportunity in the Software and IT Services arena.

Synergetics' subject matter experts, who have a broad range of knowledge and first-hand experience, are able to leverage their expertise to best fit client needs. By utilizing a customized approach and in partnership with company leadership, they together can integrate new technology and processes. Synergetics delivers efficiencies and savings opportunities to help clients grow and evolve their businesses.
SYNERGETICS' relevant capabilities for IT ENVIRONMENTs
Revenue
Enhancement

Sales Effectiveness
Driving better customer relationships and revenue through structured sales management practices.
Revenue Leakage
Improving pricing, discounting, contract management, fulfillment / implementation, billing and collection practices to improve revenue attainment.

Cost
Management

Productivity & Process Improvement
Planning, assigning, executing and reporting of work to improve utilization and quality.
Overhead Cost
Structuring
Reviewing, measuring, and benchmarking associated costs as being labor related and non-labor related and prioritizing greatest opportunities for cost optimization.
Organization Design
Identification of management redundancies resulting in less-than-optimal labor costs.
Sourcing, Procurement & Supplier Management
Optimization of demand forecasting, category management, supplier contracts, and planning to decrease cost.

Product & Customer Optimization

Strategic Investment
Process (SIP)
Structured process approach to software development.
MAJOR CHANGES IN THE IT MARKET PLACE, CAUSING COMPANIES TO RETHINK their strategic business plan(s), are driven by further development in software & it services
Globalization of IT Services to Include Software
As hundreds of new IT applications become available, many companies are having to seek solutions from IT vendors outside of regional / national markets. The demand for custom Software abroad will play an increasingly major role within many technology based company business plans, to result in forming new relationships and market strategies.
Transition from Traditional Licensing to Subscription Models
The shift in enterprise Software sales (from purchasing individual license agreements to that of contracting for Software as a Service (SaaS)) is a huge change for many companies. This change affects them from both a technical standpoint as well as a financial one, as companies must pay for services and resources while transitioning. The IDC predicts subscription revenue (including SaaS) will continue to grow at a near term rate of 18% vs. 4% for license revenue, as many companies make the decision to outsource Software Service needs.
Use of 3rd Platform Technologies
According to the IDC, the traditional view of IT is becoming more like an "IT-as-a-Service" (ITaaS) concept with offerings based on the 3rd Platform that include:

• Cloud
• Big Data / Analytics

• Mobility
• Social Business
ITaaS would encompass leveraging these technologies to enable alignment of IT and business goals and for more precise competitive strategic planning, executing these plans, and producing positive results. IDC also concludes that ITaaS will form the basis of 65% of global competitive strategies as of 2016.
Expanding Use of Data Analytics
Being able to incorporate "Big Data" and understand its impact on data analytics poses several challenges for companies. They will require help in designing Software solutions to analyze, interpret, and utilize internally. To fully utilize its value will require several ways to process data so that it provides business value in the form of information / company solutions. A company will have to decide whether it has the ability to create its own Software or would have to contract out for this service.
Challenges of Recruiting and Keeping Talent
As changes in the industry occur and companies look to expand their service offerings / products, to find and attract experienced and innovative thinkers will become increasingly more difficult and costly. Large companies may choose to acquire and integrate smaller businesses for new technology and program engineers. Others may have to grow organically and make an investment in longer term education, research, and training programs. These investment decisions, either way, will greatly affect market direction and values.
FINDING AREAS TO GROW IN THE MIDST OF IT SERVICE TRANSITIONS
Information Technology Sector companies fall within two Industry Groups as classified by the Global Industry Classification Standard® 1) Software & Services and 2) Technology Hardware & Equipment. These Industry Groups are further broken out by Industry, as referenced in the following classification chart. Many of the businesses that operate within these areas will continue to experience tremendous change. Although there are many companies who are successful on their own in managing change and growing opportunities, there are those that will require assistance to reach the next level.
Synergetics has a proven track record in helping its Software/IT Services-based clients implement change initiatives to achieve cost savings and grow margins.
In many instances, these engagements are a result of Synergetics' relationships with senior executives from previous projects, and from which Synergetics' quality of work and deliverables are well known.
The accompanying
article
highlights common themes shared by three IT companies, each requiring help to implement technology-based changes to improve financial performance. Although each company operated in a different market sector (banking / professional services, healthcare / business, technology integration), Synergetics used a "hands-on" approach for client specific implementations.
With Synergetics' help to guide them, all were able to increase profitability by optimizing operational efficiencies and enacting cost reduction initiatives.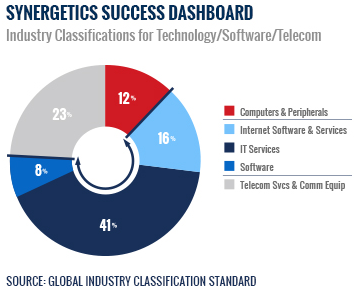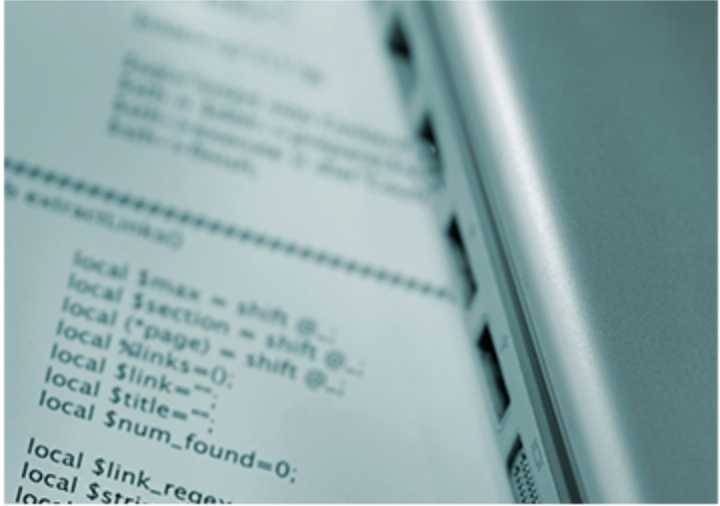 Synergetics is a trusted partner for implementing global 'get fit' programs & aligning enterprise-wide operational plans and actions in support of our long-term strategy.
65% of Synergetics' Technology engagements fall under the IT Services and Software Industries, key growth areas within the IT Sector where Synergetics implements best practices to improve overall business performance.
Synergetics: Key Highlights in Technology / Software / Telecom
TECHNOLOGY / SOFTWARE : 1 OF 9 INDUSTRY SECTORS IN WHICH WE EXCEL