Home
> Healthcare and Life Sciences
INDUSTRY IN FOCUS: HEALTHCARE & LIFE SCIENCES
Changes in Services and Service Delivery in Healthcare Are Driving Costs
INTRODUCTION AND OVERVIEW TO HEALTHCARE & LIFE SCIENCES
To commemorate Synergetics' 40th Anniversary, we are pleased to introduce "Industry In Focus"– a rotating series of updates that we will publish quarterly over the next year. This launch issue is focused on Healthcare & Life Sciences and will highlight significant trends and changes in the industry. It will also demonstrate how Synergetics is uniquely positioned to deliver guaranteed, sustainable results across the most critical areas of the business. Linked to this overview is an extended length document with more detail.

The Healthcare and Life Sciences Industry is one of the largest and fastest growing business sectors internationally. As explosive growth takes place with many available patient care roles to fill and an increasing number of businesses that support them, cost containment within the industry is a growing challenge. It is most striking in the US, and these costs will continue to grow as the population ages and lives longer, utilizing additional resources.
The cost of care is increasing and shows no signs of easing near term. There are several factors driving these costs.
Critical Factors Impacting the Cost of Care
Diagnostic Tools
Although used for early detection and treatment of medical conditions, greatly improved diagnostic tools are capital intensive to develop, operate, and maintain with a highly skilled and competent staff
Improved Pharmaceuticals
The use of improved pharmaceuticals, although hugely beneficial in disease treatment, also generate high R&D costs which are passed on to the consumer
Medical Devices
Expanded use of medical devices in treating diseases further generates increased spending
Government Regulations
Increasing government regulation and bureaucracy require higher costs related to compliance, risk management, and litigation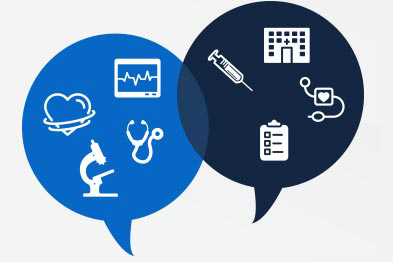 Baby Boomers
Baby boomers turning age 65 in large numbers are utilizing more resources to treat chronic conditions, with the average life expectancy now approaching 80 years with increased use of elder services
Advanced Medical Care
Advanced medical care in the treatment, cure and prevention of disease, further integrated with technology and information systems, increases the costs of service delivery and maintenance
While many businesses struggle to stay current in providing health benefits and coverage for their employees, those businesses within the industry are also challenged with keeping their costs low and becoming more efficient among increased competition. This is the environment in which Synergetics excels in guiding Healthcare companies to develop and implement their strategic initiatives, all of which are key to ensure long-term success:
•
Build upon current operations
•
Implement best practices & standardization
•
Contain costs and reduce waste
•
Increase overall efficiencies, to include labor
•
Improve overall profitability with revenue assurance
•
Assist in the optimal use of technology/information systems
Synergetics has worked extensively with Healthcare companies and entities managing health plans, coordinating care delivery and service options related to consumer benefits, and determining appropriate funding sources to pay for it all. They have taken on a much greater role as Healthcare services delivery continues to evolve. Those key businesses operating in this administrative type role are known as Third Party Administrators, highlighted below.
Existing Healthcare System Relationships
Although the roles and relationships that comprise the overall US healthcare system can be depicted in a variety of ways, a Third Party Administrator could be viewd as an entity that determines how care is provided and administered among the 3 major components:
Providers
– provide the type and quality of care delivered.
Funding Sources
– determine from what source and how much in financial resources that would cover the overall cost of care and through what means it is accomplished.
Consumers
– end users of healthcare related services.
ONE CHALLENGE INVOLVES THE ROLE OF THIRD PARTY ADMINISTRATORS & WHY THEY ARE NOT MAXIMIZING EBITDA
In today's Healthcare system, Third Party Administrators (TPAs) are in a tough spot. Both price and quality are difficult to balance for all parties in this arena, and TPAs actually have two customer bases with competing priorities they must manage and appease – the Consumer and Providers themselves.
This challenge is not new to the industry, and TPAs have increasingly found creative ways to maintain a positive income statement while meeting the conflicting demands of their two customer bases. Synergetics works with a broad range of affected parties which include TPAs, Providers, Technology Vendors, Equipment Manufactures, and various Suppliers. Our vast experience to date with TPAs, large or small, has taught us they often look to outsourcing, automation and auto-resolution as the best areas to gain results.
However, we propose that these areas will not solve P&L challenges. In the accompanying article, we cover 3 reasons why TPAs may not be maximizing their EBITDA, and how Synergetics can help to address them:
Treating All Customers in the Same Manner
Mishandling and Taking Too Long to Handle Customer Inquiries
Not Adequately Leveraging Technology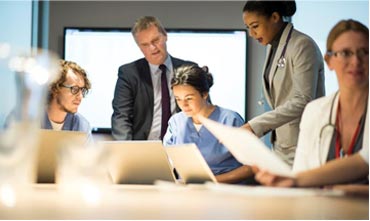 Synergetics quickly understood our business needs, mapped out a 'best practices' approach, and then executed a solid solution with professionalism and production-focused expertise. We realized tremendous returns on our investment in Synergetics – saving us millions in labor costs. Productivity was boosted, morale went up, and most importantly customer performance improved. We expected a lot from our partnership with Synergetics, and they delivered.
KNOWLEDGE IN THE INDUSTRY AND PROVEN PROCESSES ARE CRITICAL FOR SUCCESS, AND SYNERGETICS HAS THESE
Synergetics: Key Highlights in Healthcare
HEALTHCARE IS 1 OF 9 INDUSTRY SECTORS IN WHICH WE EXCEL

Areas of Expertise within Healthcare Include:
Differentiation of Synergetics' Client Types Within Healthcare - by GICS*